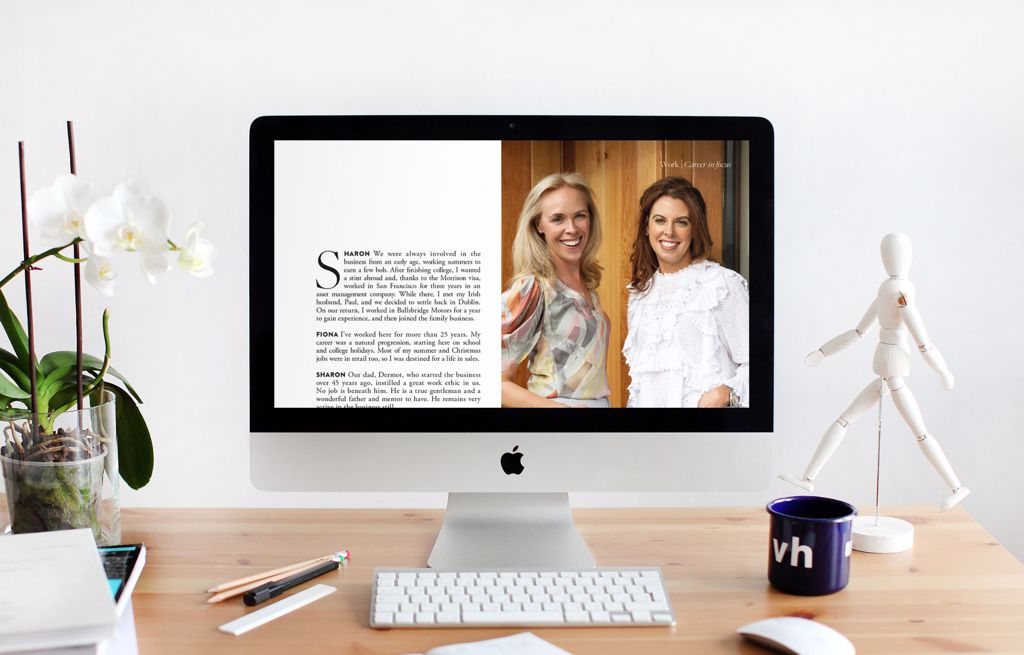 Sisters and directors at Clonskeagh Motors, Fiona & Sharon Murphy, share their experiences of working in a traditionally male-dominated industry
Fiona and Sharon Murphy, sisters and directors at Clonskeagh Motors, share their experience of working in a traditionally male-dominated industry with Jillian Bolger.
SHARON: We were always involved in the business from an early age, working summers to earn a few bob. After finishing college, I wanted a stint abroad and, thanks to the Morrison visa, worked in San Francisco for three years in an asset management company. While there, I met my Irish husband, Paul, and we decided to settle back in Dublin. On our return, I worked in Ballsbridge Motors for a year to gain experience, and then joined the family business.
FIONA: I've worked here for more than 25 years. My career was a natural progression, starting here on school and college holidays. Most of my summer and Christmas jobs were in retail too, so I was destined for a life in sales.
SHARON: Our dad, Dermot, who started the business over 45 years ago, instilled a great work ethic in us. No job is beneath him. He is a true gentleman and a wonderful father and mentor to have. He remains very active in the business still.
FIONA: Growing up, we were taught the values of hard work, empathy, honesty and integrity. We all have very similar work ethics and values. Not everyone gets to see their dad and sister on a daily basis. The best parts of working together are the small successes we share along the way, and being able to support each other.
SHARON: We are very fortunate to work together, to see and spend time together every day. Outside of work, family life is very busy. I have four children, and Fiona two. Our weekends tend to be very busy with them, so it's great that we get to support each other.
FIONA: I have a fantastic and supportive family at home too. The work-life balance is still a work in progress but, as a family business, we are now taking some strategic decisions around the business that should allow me some more time with my children as they enter the dreaded teenage years.
SHARON: I wouldn't change anything about my career path. I really enjoy working in a family business and seeing family every day. I have the best of both worlds, as I have the flexibility to spend time with my children and enjoy the social outlet of work and meeting customers.
FIONA: Working in this [male-dominated] industry, I have always found colleagues to be very courteous and encouraging. I have never had a bad experience. There is phenomenal goodwill between both our customers and staff. People are genuinely delighted to deal with women and support a family enterprise.
SHARON: Nowadays, it's not unusual to see women working in the motor industry. We recently hired a new junior female sales rep, and she is working out great. I'd encourage any young woman to go for it. It's a very rewarding career.
FIONA: Business has taught me to never lose sight of the customer. In business, the best advice is to take advice. Always stay engaged. Find solutions. Never give up. Don't put off the tough decisions. Never take on too much debt.
SHARON: The best advice I've been offered is to keep looking forward and to be a positive person. There's no point in looking back at what's gone before – look to the future.
News