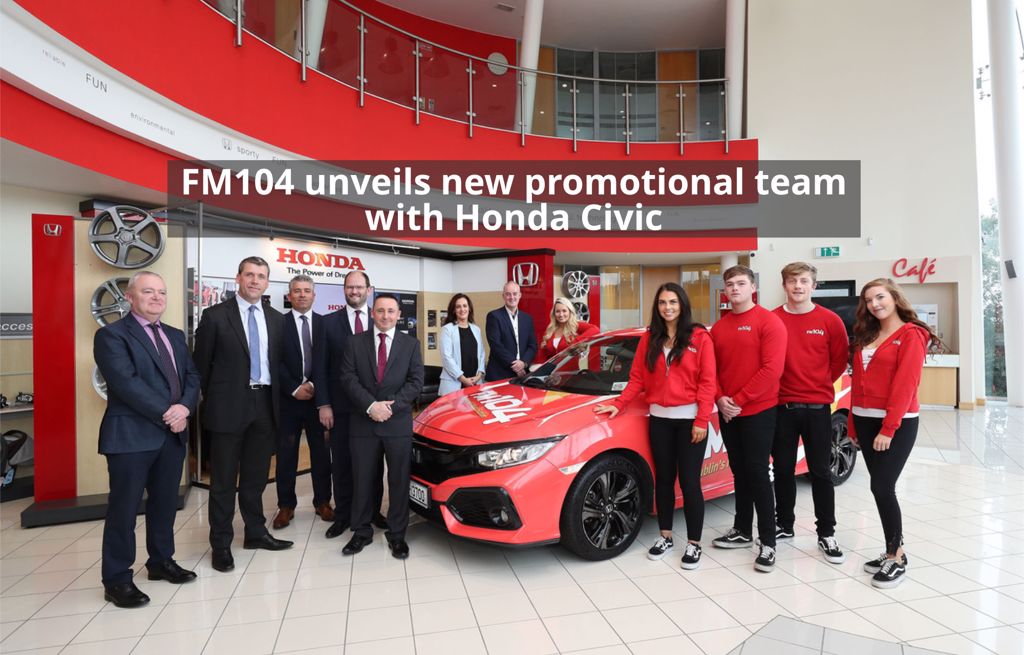 FM104 unveils new promotional team with Honda Civic
Dublin's Hit Music Station FM104 is delighted to announce its new partnership with Honda Civic. The city's number one music station has just unveiled its brand-new promotional team 'The FM104 Roadsters who are now driving the new Honda Civic 5DR Hatchbacks.
Speaking on the launch of FM104's new promotional fleet of cars, Honda's, Sales and Marketing Director, John Saunders said, "The Civic is a core model for Honda in Ireland and has been at the heart of the brand's strong sales for many years. Teaming with such an iconic radio station as FM104 makes perfect sense for Honda as both brands really stand out in their respective marketplaces."
"The Civic family includes a car, engine and transmission option available for everyone ranging from the sporty 5DR Hatchback, that the FM104 Roadsters now drive, to the sophisticated 4DR Sedan. All are available in the engaging i-VTEC Turbo petrol engines
and the cleanest and most efficient Civic diesel engine ever."
Continuing, John Saunders said "Starting at €24,250, the new cars display a suite of safety features called Honda SENSING which make the new Civic one of the safest cars in its class."
FM104's CEO Margaret Nelson said, "We're delighted to partner with Honda to promote our station across Dublin. The new Honda 5DR Hatchbacks are amazing to look at. The Honda brand ties in perfectly with FM104 as both are hugely popular amongst consumers. FM104's continued dominance over other Dublin music stations is consolidated in the fact that it has remained in the number one position for over ten years and, with Honda on board, we hope to continue that trend."
For more information on the Honda Civic range, please contact us today on 01 2694477 or email us on [email protected]. Our team of Honda Experts are always on hand.
News